Engineered Base Assemblies
The Ameriflo fabricated base assemblies are some of the best available in the industry.  Most of the features and benefits found in these bases are usually found only in bases offered to the API industry.  These bases are made of heavy wall structural steel with very high torsional rigidity designed to minimize deflection and keep items mounted in place.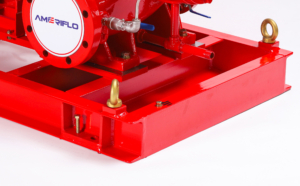 All engineered bases feature milled and drilled pads under both the pump and the driver.  These mounting areas ensure that soft foot problems during installation simply are not an issue.  Two (2) grounding lugs are present on both short sides of the base making it very easy to ground the entire base assembly increasing safety.  Base lifting lugs are installed at each corner of the base allowing for safe lifting and movement of the entire base assembly.  These corner lifting lugs stop severe damage that can occur when the lugs on the pump and driver are used to lift the weight of the entire base assembly that are much higher than these were ever intended on supporting.  Base leveling jackscrews are installed along the long side of the base making leveling of the entire base assembly very easy and trouble free.  These base leveling jackscrews allow for fine tuning of the leveling process that simply cannot be accomplished by using traditional shims.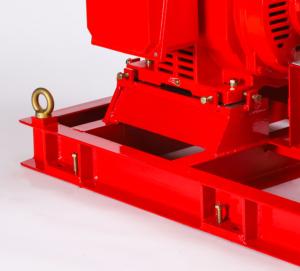 To aid in the alignment of the pump assembly alignment jackscrews are provided on the driver (when driven by an electric motor) or under the pump (when driven by a Diesel engine).  This very simple addition to the base makes field alignment very easy & straightforward and allows for fine tuning of the alignment process that is very useful when performing very precise alignments especially when using laser alignment products.
All base assemblies have capped ends greatly increasing torsional rigidity.  Nearly every other manufacturer standardizes on bent channel bases without capped ends.  These bases are prone to severe deflection during transport making filed installation more time consuming and very difficult.  The Ameriflo I-beam base construction is far superior to these other bent channel designs.
https://www.ameriflo-usa.com/wp-content/uploads/2020/12/VT-2-scaled-e1607031776875.jpg
1812
2560
Michael Florio
https://www.ameriflo-usa.com/wp-content/uploads/2021/12/Ameriflo-ul-fm-300x30.png
Michael Florio
2021-10-30 15:41:49
2022-08-17 21:36:26
Fabricated Base Assemblies