Paint & Coatings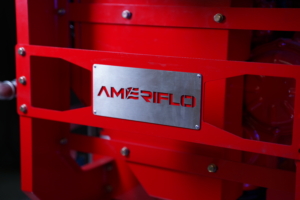 Every product manufactured by Ameriflo is carefully primed and finish coated to the highest industry standards.  All parts and castings are thoroughly cleaned with solvent to remove any oil, grease or other surface contaminants so that the primer and/or finish coats will properly adhere to any coated part.  Ameriflo has a standard paint (RAL 3020) that is used on every product manufactured in house and also offers a variety of other optional coating that can be specified at time of order.
Ameriflo RAL 3020 is the standard enamel red that Ameriflo has been recognized for.  This color is very bright in nature and is finished in a high gloss to emphasize the quality of the Ameriflo products.  This standard paint is applied to all pumps, base assemblies and all Diesel engines.  The distinctive high gloss is not typically used by other manufacturers as it can highlight casting flaws and inconsistences.  The Ameriflo pump product line utilized metal patterns which produce a casting of extreme smoothness allowing the RAL 3020 high gloss finish a place to shine.
Ameriflo also does not spray the entire Diesel engine assembly with paint as other manufacturers do.  RAL 3020 paint is selectively sprayed on individual components and not on others allowing the higher quality craftsmanship to show through.
https://www.ameriflo-usa.com/wp-content/uploads/2022/02/MK-6-scaled.jpg
1256
2560
Michael Florio
https://www.ameriflo-usa.com/wp-content/uploads/2021/12/Ameriflo-ul-fm-300x30.png
Michael Florio
2022-02-12 17:56:35
2022-02-12 17:59:30
Paint & Coatings