Large Refinery Split Case
Not Only Fire Protection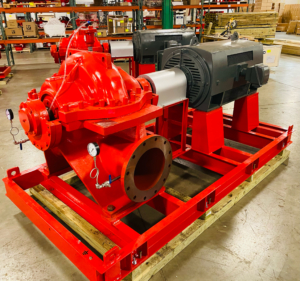 Ameriflo started its global program by first focusing on fire protection.  Over the last several years, Ameriflo has developed and released the most comprehensive UL & FM fire protection offering on the planet.  With complete coverage in the end suction, vertical inline, split case and vertical turbine, our hydraulics are unmatched.  Couple that with the only pump manufacturer offered Diesel engine program and you have a very dangerous product offering that has disrupted the global fire protection market.
The intention form the beginning of the Ameriflo concept was to also offer a complete non fire offering consisting of end suction, split case, ANSI end suction, vertical turbine, mixed flow and axial flow products for the Commercial, Municipal & Industrial markets.  This post focuses on one of these non-fire product offerings.
Shown here are two 14×16-20 HS split case pumps sized for 10,300 GPM and a head of 259 Feet.  These pumps have cast iron casings with 304 stainless steel impellers coupled to two medium voltage, 1760 RPM, 900 HP horizontal T-frame motors.  The customer specified mechanical seal construction and the standard Ameriflo accessory package.  These two units are mounted on the exclusive Ameriflo fabricated base assembly featuring base jackscrews for base leveling.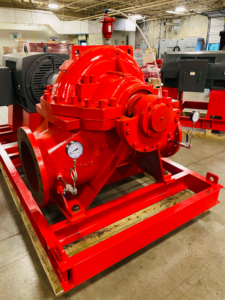 These two units will supply process water at a refinery and are designed for a 20+ year casing corrosion allowance.  These are massive units that show the complete engineering prowess that Ameriflo has become known for.  As 2023 begins, more information will be published showing the complete hydraulic offering of the Ameriflo non-fire split case offering.  As it stands today, the current single stage stage split case product has flows out beyond 90,000 GPM and the multistage split case offering has heads north of 2000 feet.
The disruptive program that Ameriflo offers has no equal.  If you have interest in joining the Ameriflo distribution network and being part of this revolution, please contact us at [email protected].
As always, thank you for your interest in Ameriflo and we welcome you to The Future of "NOT ONLY" Fire Protection.
https://www.ameriflo-usa.com/wp-content/uploads/2023/01/IMG_9509-scaled.jpg
1197
2560
Michael Florio
https://www.ameriflo-usa.com/wp-content/uploads/2021/12/Ameriflo-ul-fm-300x30.png
Michael Florio
2023-01-09 16:14:12
2023-01-09 16:14:12
Large Refinery Split Case